Furnishing a small space, impossible? You often hear this when someone sees a new apartment or decides on a living room make-over. Yet, there are many tricks you can employ to survive this challenge with flying colours! Ready?
Before any transformation or development, the first consideration is the size of the living room or the house. Depending on these measurements, we may choose different solutions.
There is no ideal solution for any situation. It all depends on the size of your living room or your home. But don't panic, we have selected a few tips to help you plan your space.
1. Use modular furniture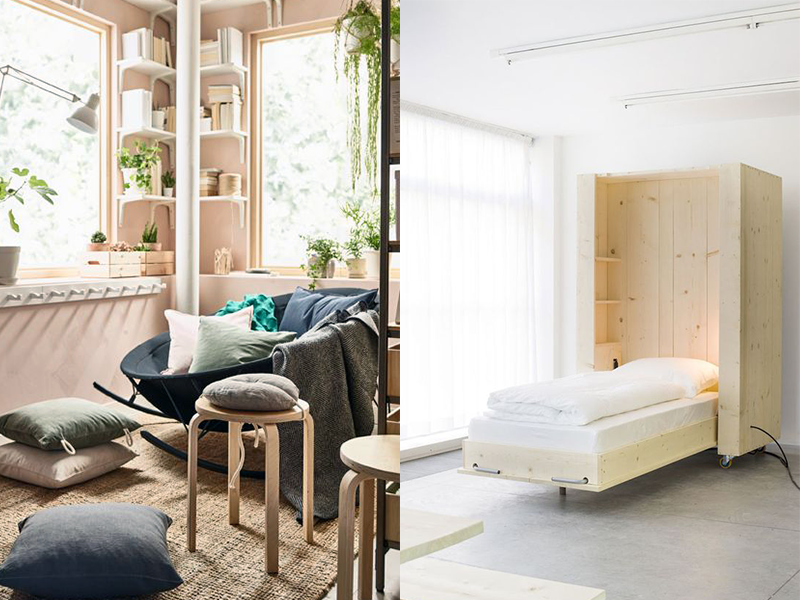 Since the smallest square metre is important, it is important not to waste space with unnecessarily bulky furniture. For example, the use of stackable stools in a small kitchen or a small dining room will make it possible avoid cluttering the little space with furniture that is too heavy or too bulky. Multi-purpose furniture can be another alternative to optimise your space.

2. Choose small rather than large furniture
You already have very little habitable space. So don't reduce it by putting in too much furniture. The use of low furniture will allow you to store your possessions while keeping the free space. This avoids giving a suffocating impression in a room that is already small. A good tip to save space with your furniture is to have sliding doors, so you no longer need space for ordinary doors to open.
3.

Elevated beds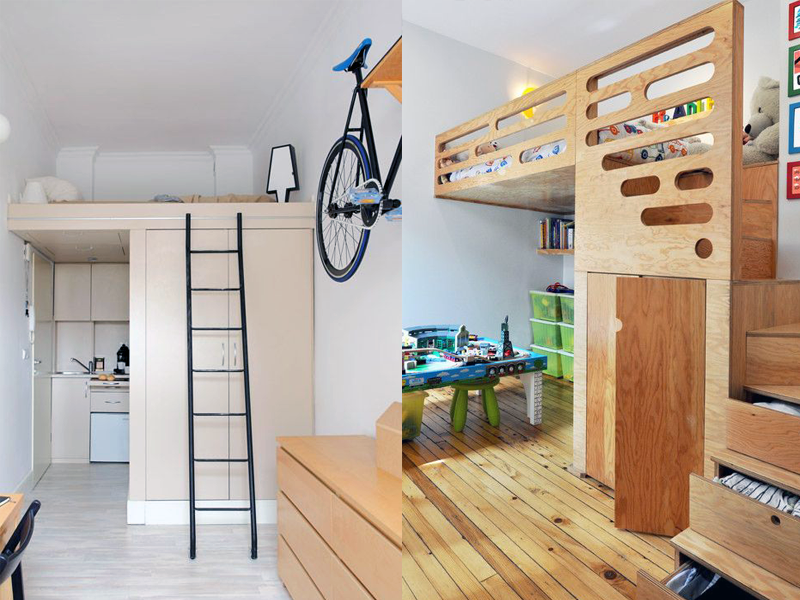 For those with high ceilings, by elevating a bed, you can gain a small area to install a work space or to create a relaxing corner.

4. Drawers under the bed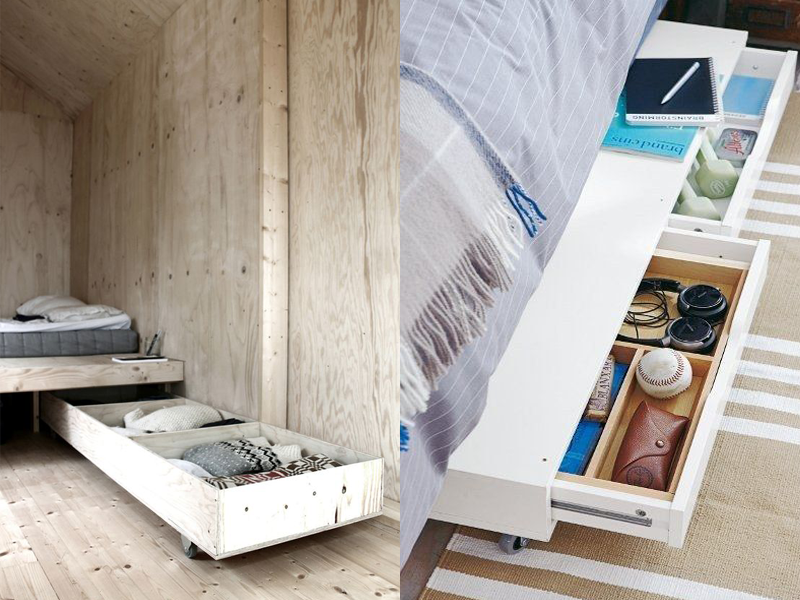 A good tip to save space is to fit drawers under the bed. Easy to pull out, they can store your belongings so that you can free up space in the room.
Under-bed storage boxes are readily available. For the more practical among you, you can make them yourself according to the space available and the number of drawers you need.

5. Separate spaces with sliding doors or curtains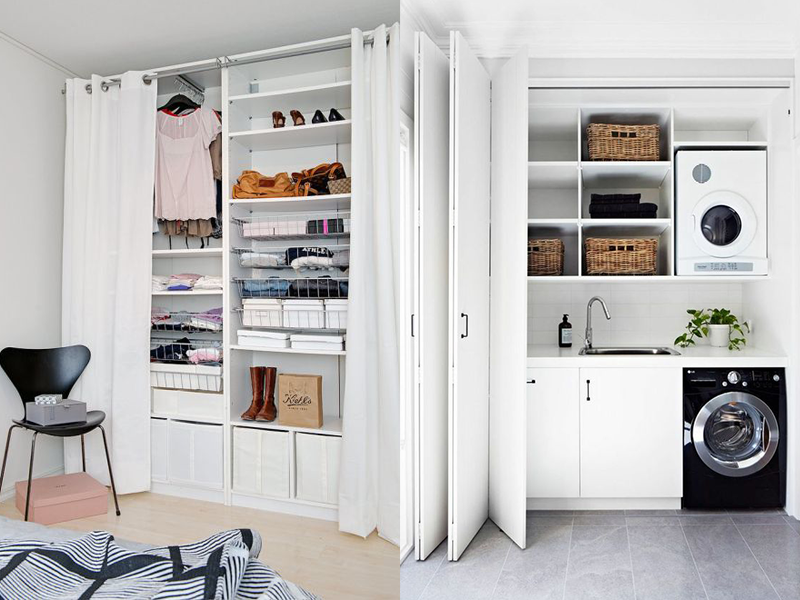 Using a curtain or a sliding door will save space because you no longer need enough space to open a door. You can also use this trick, for example, to hide a washing machine.
6.

Wall storage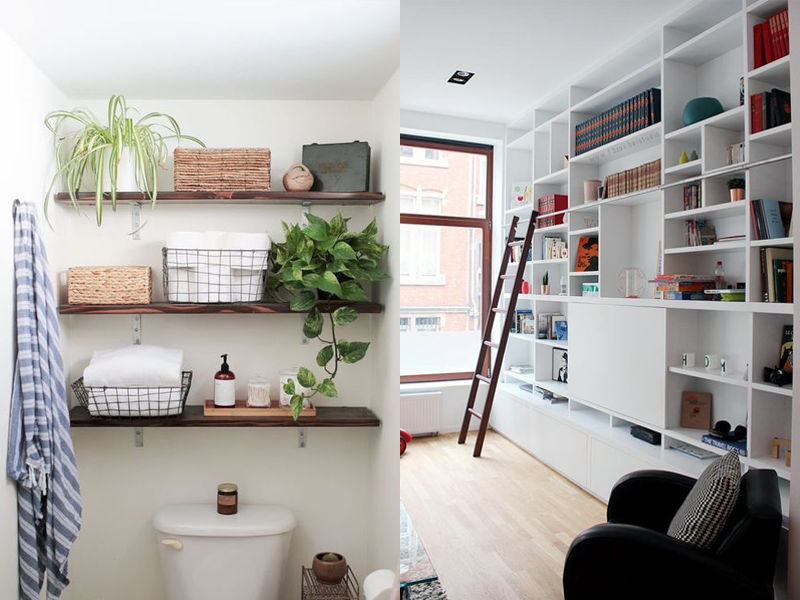 Wall storage is a good alternative to furniture or cabinets. The shelves can hold books or other objects such as decorative items, for example.

7.

Use every available space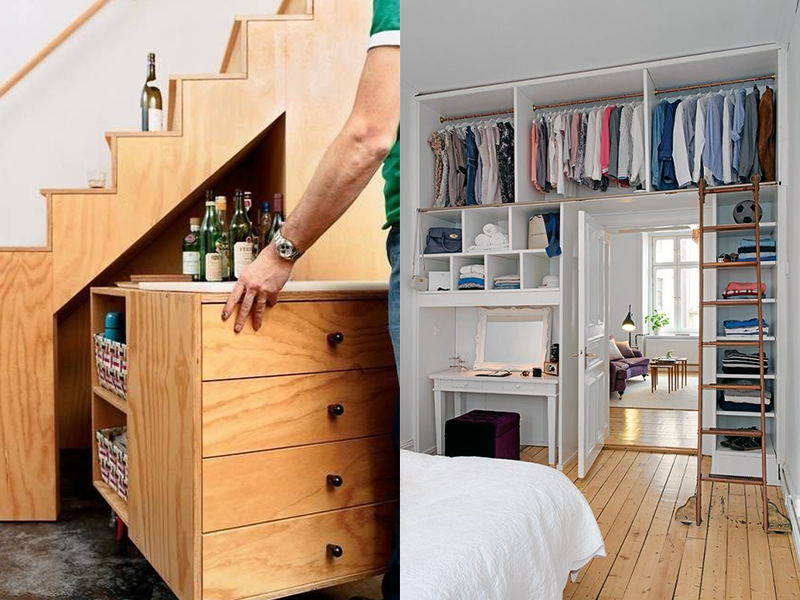 When you live in a small home, every bit of space counts. As a low-cost solution, you could, for example, place a wardrobe or a book case under the stairs or use the height to create a mini-wardrobe.
8.

Play with decoration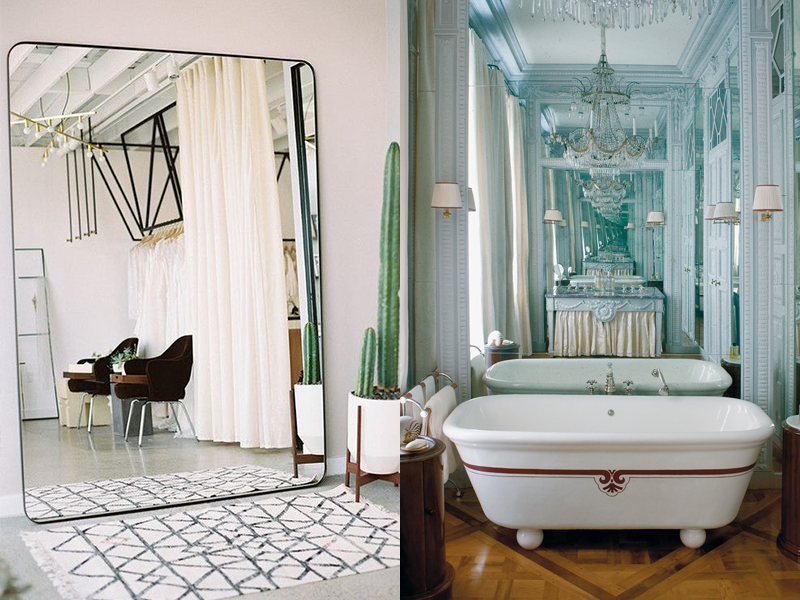 The choice of colours for the walls, the integration of mirrors and the clever use of lighting can help you create an illusion of a larger space. Pick pale pastels and fresh colours for the walls like off-white, cream, light blue or powder pink. Choosing these colours is a good way to increase light levels. If you don't want to change the colour of your walls, you can play with the use of mirrors by placing them so they face a window. In this way, not only will they reflect the natural light throughout the room, but, visually, they will expand your living space.
Finally, large ceiling lights are an excellent way to increase the impression of space. If you do not have great lighting, do not panic! Placing small light fittings on walls or lamps on furniture will allow you to achieve the same effect while creating a cosy atmosphere.
Note :
If you're looking for inspiration, our

Pinterest account and good ideas directory can help you find ideas for your home.
Do not clutter your small space with objects that you do not use, store them in a furniture repository, a practical solution!